Longbikes Gulfstream details
| | |
| --- | --- |
| | The Gulfstream: Developed from the same fundamental design as the Slipstream, the Gulfstream is an incredible machine. It provides a level of stability, comfort and pure riding joy that is unmatched in long wheel base tandem recumbents (or uprights). For couples looking to ride together, the Gulfstream, Longbike's ultimate Stretch Limo, is the perfect choice. Need more proof? We think the smiles from our Gulfstream owner's are probably the biggest of all. |
The classic Duplex shown at the right has set the standard for long wheel base recumbent tandems for years but we decided that it was to raise the bar. The new Gulfstream, shown below in Team White Pearl, blends the best of the Duplex with the performance, craftsmanship and excellence of the popular Slipstream.

Some of the changes are:
1st: Appearance closer to the Slipstream.
2nd: The seats are lower, captain 1+" lower and the stoker almost 3" lower.
3rd: The components have been re-spec'd and the price has been lowered by a few hundred dollars.
4th: It will share more of the Slipstream frame components to help reduce the price.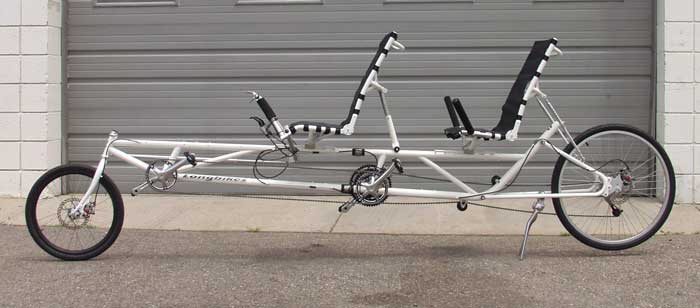 Optional S&S Couplers allow the bike to break in half.
The style, mechanics, comfort, and durability are legendary. If you you prefer a long wheelbase configuration the Gulfstream is your bike. It will take your and your partner to the coffee shop or across the country in comfort no other bike can offer. If a short wheelbase tandem suits you better, check out the Jetstream.