Longbikes Eliminator review
Quick Spin
By Bryan J. Ball
Editor 'BentRider Online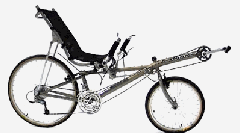 As most of you who frequently peruse the Internet know, the first handful of Longbikes Eliminator SWB's are trickling into dealers. Peter at the Bicycle Man in Alfred, New York, was one of the lucky few to receive one of the first and he let me take it out and put it through its paces.
When I looked the Eliminator over on the shop floor, I was very impressed with its craftsmanship. The bike had very nice welds, impeccably machined parts and one of the best black gloss paint jobs I've ever seen on a 'bent. The three chains and plethora of custom made parts looked a little over-engineered, but I was willing to give it the benefit of the doubt. One interesting design feature that stuck out and worked well, was the bikes tandem inspired concentric bottom bracket shell. This unit is really a great way to keep tension on the bike's short front chain.
As I lifted the bike down from its chest level rack, I noticed that it was quite heavy. I'm not a big weight-weenie, so I decided to let the road decide how heavy the bike was.
Climbing on the bike is a little more difficult than on some USS bents because of the long handlebar extensions coming up next to the seat. I would find out that this would be a small price to pay for near ergonomic bliss.
Don't let the Eliminator's intimidating name fool you. The Longbikes SWB is an absolute pussycat to ride. I got started with absolutely no problems and took off down the road with hardly a wiggle. The Eliminator has a quicker feel than a Haluzak or Vision USS. It's overall handling reminded me of a P-38 or a Stealth, but with the handlebars below the seat.
This Eliminator had a mesh sling similar to the Longbikes Slipstream I saw at CABDA. This seat is pretty good, but the straps dug into my back a little bit when I really stomped on the pedals. And trust me, you'll want to stomp on the pedals. Longbikes' SWB definitely enjoys a good romp. It felt closer to a true performance bike than almost any other USS I've ever ridden. All of the extra pounds almost fade away when you drop the hammer on the Eliminator. I did not have a computer on the bike when I rode it, but this is definitely a pretty hot bike.
Despite all of its chains, jackshafts, and linkages, the Eliminator felt extremely solid. There wasn't hardly a rattle when riding over bumps and there was virtually no chain noise.
Upon initial review, I give the bike a pretty solid thumbs up. My only concern about it was its asking price. At $2,400, it may be a bike without a very big niche. People looking for a good SWB/USS touring bike may look at the Haluzak Horizon that costs hundreds of dollars less. People looking for a performance SWB in that price range may look at the better known P-38 instead. If a performance customer really wants an USS bike, the Vision R-44 or R-45 is there.
Am I saying that the Eliminator is not worth the price? Absolutely not. My first impression is that it certainly is. I'm just hoping that dealers and customers aren't scared away by the price tag. I'm sure that there aren't too many disappointed BMW customers out there, but it may have taken their salesman a little while longer to convince them that the car was worth the plunge.
The Eliminator will face off against its USS competition in a future issue in a three-way comparison test with the Haluzak Horizon and Vision R-44. Sometimes being a bicycling journalist has its advantages.