Longbikes Slipstream review
Longbikes Slipstream: Latest in a very long line
By Bryan J. Ball
December 2000
Editor: 'BentRider Online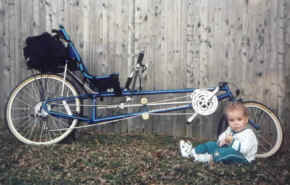 I remember a series of verses in the bible that read, "So and so begat somebody and they begat some more people and they begat somebody else …" (This is not an exact translation). This biblical lineage is probably only slightly longer that of the Longbikes Slipstream.
Here's the abridged version. Dick Ryan and a few other builders begat a bike called the Avatar in the late '70's and early '80's. Ryan then went solo and begat Ryan Cycles which begat the Ryan Vanguard. The Vanguard was produced throughout the '80's and nineties before being purchased along with the entire Ryan line by Greg Peek and Longbikes in 1998. Longbikes made a few changes to the classic Vanguard and begat the Slipstream. Longbikes also continued begetting Vanguards until this year.
So the Slipstream is the culmination of over twenty years of design experience and has felt the influence of many men. Throughout its storied history, the bikes have always been intended for touring. This has made Vanguards and Slipstreams extremely popular with the TransAm set. The line's reputation for a Cadillac ride and bulletproof reliability has caused this group of well-traveled riders to elevate these LWB/USS bikes to an almost divine status.
If you polled Vanguard owners you'd most likely be shocked at the amount of miles that miles that have been racked up on the odometers. I spoke to one owner of a late '80's model that claimed to be pushing 40,000 miles. He had no immediate plans to replace the bike. This is just one of many Dealers I've heard relating to the designs durability and to the loyalty of its riders.
Slipping to the Present
The Slipstream seems to have inherited much of the Vanguard's stalwart reputation. None of the changes made to the bike have effected its rock-solid reputation for reliability.
The most obvious change from the Vanguard design is the location of the bottom bracket. The BB shell on the Slipstream is a few inches higher than it was on the Vanguard. Simply eliminating the bend in the Vanguard's downtube made this change. The adjustment isn't extreme and has been accepted by customers. Slipstreams outsold Vanguards by a considerable margin when they were still sold side-by-side.
Longbikes also made a significant change to Ryan's seat design. The Avatar, Vanguard and Slipstream all use a sling mesh seat. However, the Longbikes version has eliminated the seat horn that was part of the older designs. I welcomed this change as the old seat design's horn poked at me in a very uncomfortable place.
Longbikes has also upgraded the bike's drivetrain to fit the new century. Our test bike featured a full Shimano 105/XT 27-speed layout with bar-end shifter and Avid V-Brakes. All of these parts have a reputation for reliability that is fitting of the bike's history.
Longbikes did experiment with an interesting OSS system for the Slipstream/Vanguard but that project appears to have been scrapped.
One thing that Longbikes had the good sense to leave alone was the sturdy design of the bike's frame and steering linkage. When you look closely at a Slipstream, you get the feeling that if the bike were left close to a nuclear explosion the seat mesh and tires might be burned off, but other than that the bike would be probably be rideable. It really does appear to be that sturdy.
A Steady, Even Pace
All of this reliability and confidence does come at a price. Like the Vanguard before it, the Slipstream is not a very fast bike. It does perform better than its ancestors, but the tough frame is not any lighter. Ryan was perfectly willing to sacrifice a little weight in the name of strength and Longbikes has continued on with that philosophy. Our test bike weighed in at a hair over 40 pounds with its fenders, rack, kickstand, and empty seat bag.
The Slipstream was not meant to burn up the road with high mile per hour numbers. It's capabilities should be measured more in miles per day. During long distance tours, the Slipstream's comfort, predictable handling, soundness and ability to carry a seemingly limitless amount of weight are much more valuable than an extra mile per hour of average speed.
When I was testing the Slipstream I was initially a little disappointed with its performance. I was trying to attack the hills and burn up the flats with my usual youthful over-enthusiasm. I was really beginning to wonder how so many people had racked up so many miles on such a slow bike. I then realized that I was riding the bike all wrong. I backed off to about 85% of my usual effort and after a few more miles; I began to realize why the bike has been so popular. If you just back off a little, take your time and enjoy the scenery, it feels as if you could ride forever on the Slipstream. It's the kind of bike that you wouldn't mind riding to work on every day if it weren't for its size.
Everything on the Slipstream seems to be in the right place. The bar-ends that house the bike's shifters and brake levers fall readily to hand and don't ask your wrists to turn in any unnatural ways. The bottom bracket didn't really seem too high or too low.
Longbikes' indirect USS steering system seems to be operated by thought control. When I was traveling down a long steep grade I found myself passing through 50 mph without hardly noticing. On another long grade I reached back into my seat bag to retrieve a water bottle. As I took a sip and looked down at the computer, I was clocking 43 mph. This was only my second time riding the bike. I've ridden some bikes for months before I'd attempt a water bottle grab at that speed.
Everything has a downside
The confidence of knowing that your bike is one of the toughest, most well proven designs in the history of recumbency does come at a price bigger than a tick or two from your average speed. It will also take a pretty sizeable chunk out of your wallet.
The base Slipstream checks in at $2,400. Add the options our bike had and you're looking at closer to $2,700-$2,800. If you're planning on doing some serious touring with the bike and ad a fairing, panniers, trailer and all of the other accouterments don't be surprised if the bill is within shouting distance of $4,000. This isn't a ridiculous price to ask for a bike of this high quality, but it can certainly induce a serious case of sticker shock.
When you look at the Slipstream's hefty asking price, try to remember what you're buying. Your $2,400 is buying over 20 years worth of refinement and a bike that most likely isn't going to let you down and leave in the middle of the high desert with a broken chainstay. The Slipstream is a bike that will let you pile on your gear, pile on the miles and keep coming back for more for many, many years.
HIGHS

Predictable and reliable in almost every way

LOWS

Heavy curb weight and equally heavy price tag

MSRP

$2,400

MORE INFO