Longbikes Slipstream review
By David Boyd
February 20, 2005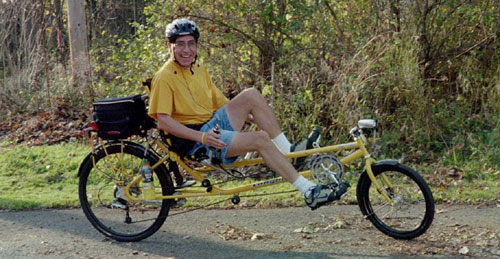 I purchased my Slipstream back in May 2004 but for health, weather, etc. reasons I did not really start riding it until mid June. It was a very rainy year but owing to a very mild November and beginning December, I rode a total of 7 "last rides of the season," the last day being December 9th 2004. Once the salt is on the roads here in northwestern New York I refuse to take the bike out again until several good rains wash the salt away. I rode:
2,465miles (12.2 mph average speed)
104,735' total feet of climb; (Specialized Speedzone Pro mounted on the headlight mount, works flawlessly except a couple of times it reset ride data when blasted by hand-held radar)
averaging 42.6' of climb per mile; (my starting average at was 31.4' per mile. As the season progressed, I started planning rides without worrying about the hills, at the end of the season I was taking the hilliest routes to meet my goal of 100,000' of climb)
with a max speed 41.7 mph
spending a total of 202.25 hours in the seat
At the outset let me say the above miles have been pleasurable. I have always enjoyed riding bike but "pleasurable" never really came to mind. I work 50-55 hours a week so much of my riding is to and from work. If I go the shortest way it is 41 miles with about 1900 feet of climb. Most of the time I "take the long way home." (Supertramp) the long way being anywhere from 50 to 95 miles.
Let me give a little background so you know my frame of reference.
For "brevity" you can skip down to "Slipstream review."
My first century was in 1974 on a 36 lb. Schwinn Varsity. Before that I rode a 20-inch "banana bike" many miles wearing two front tires bald. In 1975 while home on leave from the Navy I bought a Swedish bike, a Crescent road bike with Reynolds 531 double butted frame, Campy components, sew-up tires, double butted spokes. It was a larger frame (23.5"), so it weighed around 26-27 lbs. I road it in Pennsylvania, New York, Tennessee, and California and put 10K to 15K on it. Loved it. The frame was quick but not unstable. I sold the bike in 1989. Marriage and six children put a damper on any serious riding for a while. I was diagnosed with MS in 1988. My problems have been more sensory than motor. My left side is not as strong as my right and for several years my balance has not been what it could be. In 1990 I purchased an old single speed Schwinn to ride with my two older boys. In 1992 I purchased a used Schwinn High Sierra mountain bike.
No I do not have a "thing" about Schwinn but they were well-built bikes and that is what was available used.
With assorted mountain bikes for our children, through the years we rode mainly on the road but did enjoy our trails in the area. As a family, we have ridden several centuries and near centuries. I have always enjoyed the "long haul." Some people climb mountains because they are there. (they are nuts) I ride the miles because they are there. (I guess I'm nuts, too). Last year, the upright bike was getting to be too much; my MS-related tingling arms, numb hands, etc. So this spring I decided to look into a recumbent.
I searched the Internet for recumbent reviews. One thing that became very clear is that you want to ride as many different styles/brands as you can before purchasing your 'bent. Unlike a diamond frame bike where different riding characteristics though very real, can be subtle, recumbent bike differences are anything but subtle. In my opinion, the under seat steer (USS) long wheel base being the most different.
The internet search took me to the Bicycle Man Peter Stull in Alfred Station NY. Peter has many styles and brands of 'bent bikes. Most I could not ride/balance when I got there. Peter started me off on a Haluzak. Short wheel base under seat steer, the bike just wanted to roll. Very nice bike, but I could tell that it would be a challenge for me to balance it at much over 25 miles an hour because of my balance issues. The handling was too quick for me.
In my younger years this bike would have been a scream! Next I rode the over seat steer long wheel base Sun models, a Vision, an Easy Racer Tour Easy (could tell after a short time that my MS would affect the ride of this bike too.) The Burley bikes were interesting; handle bars that swing for and aft is different. The Bacchetta Aero TI, oh boy!
Next I tried a Linear long wheel base under seat steer. I was not comfortable at first, but I could sense the possibilities of the design.
I have since returned to Peter's shop several times and have ridden other bikes along with the Linear, which rides much better now.or could it be that my ability to ride and appreciate it has improved? Peter has done some nice work on the frame and it is an improved, very nice ride.
Having ridden my road bike with a good frame and components, I was aware of what is possible. But with my current situation, I also had to evaluate what I needed/wanted in a bike.
Speed
Speed is relative. In my youth there was a whole group of people that I could smoke. There was also a group though smaller, that could smoke me. At 49, I am in the same boat. To complicate things, no matter what design I choose, if we were to all ride the same bike, there would be some I could smoke, and today, a much greater percentage could smoke me. Now this is not to say that speed is not important. I do not want a bike that is slow because of weight, rough bearings, energy lost on loosely-spoked wheels, etc.
Handling
Handling is an issue because of my decreased balance ability. We have hills where I live so high-speed decent stability is a must. After a lot of reading on the Internet, I pretty much settled on long-wheel base for its high-speed stability.
Position
Since my sides are not balanced, handlebar input is an issue. Over time, how is hand/arm position going to affect comfort and ride? (Keeping a grip on something over time causes me cramps/fatigue.) For several years I have been intrigued with USS. I remember reading a review of someone riding a Vision and the feeling that he had when going down-hill.yee ha!
Comfort
Close to position, but a little more focused on at the end of the day, how am I going to feel?
Craftsmanship
I do appreciate craftsmanship and feel it should be rewarded if the rest of the package is "right." I am purchasing one bike. I cannot afford to go through several bikes to find the "right" one.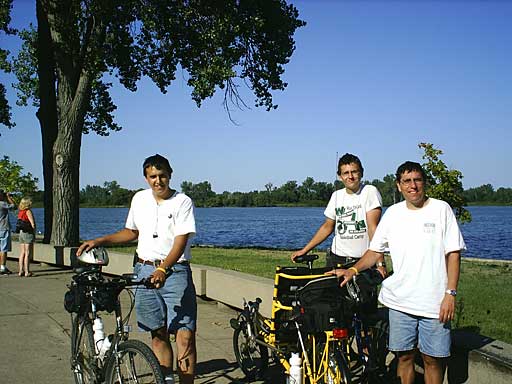 Slipstream Review
Speed
As I have said, I do not have the strength that I once had. I would love to have had this bike when I was in my 20's. The bike scoots right along. Greg Peek made a couple of modifications on it. Two brackets for water bottle holders and a bracket on the Tubas rack for my ham radio antenna. The bottles may cause a little more drag but they are easily reached while riding, especially while climbing hills. My ham radio is a Yaesu VX-5R, very small, so the whole package, including the 48" Diamond NR770HB antenna, weighs about 1.5 lbs. For the communication enjoyment I get (I have talked with my wife 50+ miles from home) it is well worth it. I also have two bar-end mirrors to get two different views behind me. Uh Oh, more wind resistance.worth it for safety. As far as average speed, I know if I listen to Sara Brightmans's La Luna album, I will ride slower to the music, decreasing my overall speed. I simply enjoy the music as the world passes by unobstructed.
A note about the Slipstream's brakes. The first few descents on this bike were interesting as I slowed down much quicker than I was used to. Until I got used to the brakes, I got a little light in the seat. The brakes will slow the bike down very quickly. More so than my road bike with rim brakes. I have the levers adjusted so that I have lever travel. It reminded me of going from mechanical brakes to power-assisted breaks. You have to get used to the feel, but once you do, you are thankful for the stopping power. The Avid disk brakes keep this bike's speed under check with no problems. They are very smooth and predictable even while riding on wet roads.
Handling
At first I was concerned about that wheel all the way out front and whether it would slide around. Not to worry. On one ride (129 mile, 10 hours and 4,000 feet of climb) I learned to ride this bike at slow speed. Back in the 60's the state of New York moved the town of Red House to make room for the Kinzua Dam reservoir. A seven-mile section of road that has been closed since then is the best way to get from Steamburg to Salamanca. This 'road' goes through the woods and is broken blacktop on cement or just broken cement, very rough with holes. Several years ago, my son loosened up his Kris King headset on it. To make it more interesting it had just rained and puddles hid the holes. I had to keep it at 7 mph or slower. The bike handled like a dream. At low speed, the front tire sliding up edges of black top/concrete, the rear tire sliding out from underneath me, much like my mountain bike. I had over six hundred miles on the bike so had learned to trust it, relax and pedal. This seven miles really showed me how well this bike handles as long as you relax and allow it to do its thing. As far as the roughness, the long wheel base soaked up the shocks. The headset and the rest of the bike came through with no problems.
For me suspension is not an option, (don't like the vagueness) so this stretch of road really showed me how Greg's chromoly steel frame reacts. I could feel the frame absorb the shocks but in no way did it feel mushy. It took to the business at hand and dealt with it.
I am amazed at how stiff a 20" front wheel with 100 lbs. is; it transmits a lot of energy into the frame. When I pick up my bike and set it back down, I can feel the difference between the 20" front and 26" rear tire. At first I thought something was loose in the back. The front has a definite thud feeling and the back has a lighter, softer thud. I do not think traversing that seven miles on a short wheel base would have been as pleasant, even though the short wheel base has a reputation for better slow-speed handling.
I guess this is as good as any place to address the long wheel base under seat steering (USS) issues. When first learning to ride the bike I put pressure on the handlebars and had a hard time balancing it. I literally was pushing the bike over. As I mentioned, my balance is not the best and during the first few hundred miles, a few times going down hill, I would get scared, freeze and the bike would start going over. I had to tell myself to relax.as I did the bike righted itself. Even though I could barely ride the bike when I picked it up, I have only laid it down once. Depending on how I leave my house, two of the three ways involve traveling ½ or 1 mile over dirt/gravel country roads. During November going up an 11% washed out dirt road, the rear wheel kicked out from under me on a large round rock and I laid it down at almost a standstill. Happy to report no scrapes/damage to the bike or me. The water bottle cage bent, but Greg's custom water bottle bracket did not give at all and remained straight.
One difficulty I had was going up hill. I was so used to pulling on the handlebars. On this bike you will become very unstable at low speed if you do. After about 100 miles, the handle bar got a little side-to-side play in them. I just had to tighten the thrust-bearing nut and have not had a problem since. I was just yanking on them so much that I loosened the system. By the way, it you go and ride this bike at a bike shop, the bars may be loose from people yanking on them as they learn to relax. The bars should not have any play in them at all. There is no danger of the steering not working, but I am just very sensitive to a bike that is not "tight."
This style of bike is the least intrusive of any bike I have ridden. The bike is only in your peripheral vision. You do not see much of it while you are riding; it literally disappears when going down hill. No hands in your face here … People have asked me about being afraid because there is nothing in front of me to hang onto. As I see it, the over seat steering (OSS) can give you a false sense of security. If anything nasty happens, for example the bike stopping abruptly while traveling at high speed, the over seat handle bars are not going to keep you in place. For me, under seat steer is the way to go. On both the Slipstream and Linear, the steering rod is on the left side of the top tube. People walking on the sidewalk or sitting on their porch cannot see how you steer the bike. Adding to the "what the?" factor. As one person said about his riding his USS around Central Park and NY City, is like "A ten hour ride is like a 10 hour IMAX movie."
Position
As noted above, the position on this bike is very comfortable, perhaps too comfortable. I have spent up to 4+ hours in the seat without stopping. There were several rides that I just ran out of gas. I'd keep going but couldn't seem to move it, if you know what I mean. On an upright bike, any excuse to get off the bike is a good one, especially to eat. On one of my last rides I realized that I was running out of food and simply had to remember to stop and refuel.
I have the upright hand grips moved in 1.5 inches from the ends. Bar-end mirrors protrude out of each end. This gives a very good view of what is behind and along side me. Most of the time, my hands rest on the horizontal bar, my pinky fingers wrapped around the stems of the bar-end mirrors. Between the uprights and horizontal bar, there are many ways to place my hands. Reminds me of the multiple hand positions available on a road bike.
More on going uphill: since you keep your weight on the seat and push against it all the way up the hill, I settled on simply putting my right hand on my right leg while going uphill. It helped me to relax. I can go up 13% grades this way. The lowest gear I have used is the 42-tooth (2nd front chain ring) and the 32-tooth cog (largest) in the back.
After about 600 miles and feeling pretty stable on the bike, I realized that going uphill was very different on this bike than on an upright bike. I have a free hand. One day on the way home from work, I stopped off at my favorite ice cream shack. I ordered my usual single scoop butter pecan cone (sans the sugar cone, I am watching my calories.) and headed out with the cone in my left hand. WARNING, if you decide to do this I recommend dropping to the second chain-ring.the added speed/wind made it a challenge to keep up with melting ice-cream, but a challenge that I rose to. The looks I got climbing the hill out of Jamestown were fun to see. I know, I know — bicycling and dairy do not mix. A little dairy might slow me down some, but I do not walk the bike up any hills and life is much sweeter.
I have always liked strawberry milkshakes. With my newfound free hand, I can be seen climbing or descending the biggest hills around enjoying my milkshake. I apologize to my upright, colorfully clad cyclists that I pass going in the opposite direction, but this bike gives me options that I did not have before. I probably do not help the debate among upright folk whether 'bents' are really bicycles.
Comfort
At the end of the day, the only pains that I've had were in my legs. This is where the pains should be. The seat is very comfortable and can be adjusted perhaps too many ways, a nice problem to have. When adjusting the seat, you need to loosen the two bolts that clamp the seat to the dovetail/rail and the two bolts that clamp onto the seat. Loosening these four bolts allows you to move the seat freely, and no paint is removed. Once these bolts are tightened, the seat does not flex, squeak, or in any way diminish the power going to the pedals.
After riding several recumbents, I believe that the sturdy seat and the very stiff frame help this bike to be such a good climber. When you push against the seat, the seat gives so far and then no more, period. I wondered why the seat has uprights and plastic plugs on the corners. Why not a rounded frame? I found out the first flat, a roofing nail 30 miles from home. My ham antenna hinges at the base so I was able to flip the bike over (remove computer and light) and it sets very solidly on seat and headlight mount, 3 points. Thanks, Greg.
When you loosen the top 2 bolts, the seat can slide side to side. I recommend that as soon as you get your bike, take a pencil and mark on either side of the seat bracket so that you can, after adjusting, make sure the seat is centered. I did not pick up on this, and at one point the seat was well over ½ inch off center. The bike still rode well, but I could tell something wasn't right. I found the center again using an aluminum rafter square, placing it against the hip hinge and measuring to the edge of the seat dovetail, comparing each side until they were the same.
Craftsmanship
Longbikes has a reputation for craftsmanship. This was the least of my worries. Not only is the workmanship excellent, but the more I ride, the more I see the thought that went into the Slipstream.
The seat has more material (weight) in it than others, but the design and material adds so much to the practical enjoyment of the bike. The two gusseted bars add unflexing stiffness but are also natural handles to walk/lift the bike, mount lights to.
The custom idler wheel brackets with the centers cut out; some weight saved, more machining time, nice attention to detail.
Larger frame tubing, and if you are familiar with the ride qualities of a chromoly frame, you will not be disappointed with this frame.
The bolt-on rear dropouts may add a little weight, but they give me the option to go to a 27" wheel in the future. The thick aluminum plate does not allow any derailleur flex. Faster, more positive shifts I have not experienced on any bike.
With just under 2500 miles, my bike has been trouble free. I have not been hard on the bike but the bike has seen some real-world treatment such as riding to work in the dark and hitting a 6-7" water main access hole in the blacktop at 30 mph. Scared me, but the bike just kept rolling like nothing happened. Any added weight that this bike may have appears to have been added for durability and practical use.
Hills are no longer an issue. Dick Ryan is right; weight is not as much of an issue with this design. I can simply climb hills more easily on this bike. When I see a hill ahead, I get no feeling of dread. I simply downshift, pedal and enjoy the music.
A kickstand. I have not had one in 30 years. The two-legged kickstand is really practical. It holds the back wheel off the ground for easier cleaning.
Fenders. Again, I have not had them for over 38 years. Though not caught in any downpours this year, I was able to comfortably ride on some very wet roads, arriving at work with dry, clean clothes and shoes.
To close, let me share a few memories from this past summer/fall.
Riding some "rollers" (up and down hills that shifting is not necessary) to "Movin' Right Along" from "The Muppet Movie"
Long section of flat road, minimal headwind to "The Three Leaf Shamrock" by Daniel O'Donnell
Slow going over very rough broken blacktop/concrete mentioned above to "If Didn't Have You" from "Monsters Inc."
End of the day climb, the last 1.5 mile 9% grade before the decent to my destination (129 mile ride) to "The City Lights" by Tower of Power
Rolling down a series of sweeping "S" curves at 38+ mph (Yee Ha!) to "Whenever, Wherever" by Shakira
After 3.5 mile upgrade to the Ellery Center "Cow" restaurant. With a large strawberry milkshake in one hand, 6-12% 1.5 mile descent at 39 mph to "Everybody Loves Somebody Sometime" by Dean Martin
Riding some gentle rollers, 1/8 mile from hill top to hilltop to "I Am A Man Of Constant Sorrow" from the movie "O' Brother, Where Art Thou?"
Descending a 425' hill on a very wet road, but the fenders keeping my clothes and shoes dry to "I'm Gonna Get You Good" by Shania Twain
A night descent down Spirit Hill into Clymer NY with car headlights behind helping to illuminate the way to "Your Wildest Dreams" by the Moody Blues
Same night ride after some more climbing (up one 14% grade.), several mile down-grade and level riding, smooth blacktop, moonless country night, 68 degrees, near the end of a 112-mile ride with two of my sons, slight tailwind, stars and shooting stars, to "San Antonio Rose" by the Sons of the Pioneers
Early morning fall, smell of leaves, 1.5 mile 9% uphill to "When Daddy Let Me Drive" by Alan Jackson (my oldest son introduced me to this song, my quick breathing and watery eyes have nothing to do with climbing the hill)
Rolling 30+ mph on Transit Rd. in Buffalo (Williamsville) to "Give A Little Bit" by Supertramp
Finally, a series of climbs during a double century, one particularly long 6-9% climb of almost 2 miles to "You Send Me" by Sam Cooke
My Thanks
I want to thank Peter for letting me ride ("RIDE THEM!") the great bikes that he carries and Greg for making the modifications to my bike that have made it even more enjoyable.
To quote Bob Hope, Greg, "Thanks For The Memories." My quality of life just shot way up this past summer.
I also want to thank my wife Cindy who encouraged me to purchase the bike and supported me by:
bringing me my pump when I forgot it
coming and getting me when I foolishly went riding while crashing off of four days prednisone infusion
coming and picking us up at midnight after 15 hours and 200 miles with two of my sons
riding with me and enjoying life
In closing, after seeing the new Gulfstream tandem on Longbike's website.to quote Captain Kirk's last words in the movie "Generations," "Oh My."