About Longbikes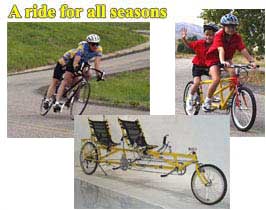 Longbikes has officially been in the business of producing high quality, customized road tandems since 1998. Greg's experience building beautiful road bikes, however, goes back to the mid 70's when he started experimenting with road bike design as a hobby.
With the sale of his succesful wheelchair business, LaBac, in the 1997, Greg was able to convert a lifetime passion building road bikes from a hobby into a full time business. In addition, within a year, he was able to expand his product line to include long wheel base recumbents through the purchase of Ryan Recumbents.
Since then, Longbikes has continued to build custom tandems and has also expanded its recumbent product line to include a short wheel base recumbent and a short wheel base recumbent tandem. Through it all, the focus on quality and innovation has remained their primary mission, and has allowed Longbikes to remain the only producer of both upright and recumbent tandems.
Longbikes History
1975; Greg Peek dabbles with road bike frame design.
1987; Tool & Die background prevails, real nice frame jig built, still in use in 2009.
1987; first road tandem built
1988; second road tandem built with material changes. Greg coins term "COLT, Continuous Oversize Long Tubes" and start using single pieces of tubing for top and diagonal tubes, something now common.
1989; Greg purchases and rides his first recumbent, a Linear LWB.
1990 - 1997; Greg builds a few road bikes and tandems for friends for "relaxation and mental therapy.
April 1998; Greg makes decision to enter tandem business.
Sept. 1998; Longbikes exhibits at Interbike for first time, showing upright tandems only.
December 1998; Longbikes purchases Ryan Recumbents.
April 1999; Decision made to expand product line beyond Vanguard and Duplex.
June 1999; Longbikes catalog, "Tandem & Recumbent" comes off the press and mails about 50,000 copies.
August 1999; First production Slipstream ships. First generation Slipstream was a "squished" Vanguard, deliberately designed to closely resemble a Vanguard to show the heritage.
December 1999; First production Eliminator ships. Greg's new baby was designed on a blank piece of paper, an original design. Key elements of design include a unique drive train with superior chain management and a simplified seat mount that does not slip.
May 2002; Slipstream redesigned to improve appearance and strength. The second generation takes on a new look that has become the Longbikes signature.
Sept. 2004; Eliminator G2 has been tested and first of new breed ships.
Oct. 2005; Eliminator tandem redesigned to become the Jetstream slowly heads toward production.